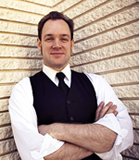 An artist since he was old enough to hold a crayon, Michael Conrad has been providing quality graphic design services for clients big and small since 2003.
Initially doing freelance work with Washington, D.C.-area clients and businesses on smaller items such as business cards, stationery, and logo design, soon Conrad was hired to supervise production and create layouts and design for the D.C. edition of Natural Awakenings and two Mid-Atlantic foodservice industry publications: the now-defunct Restaurant Digest, and Foodservice Monthly. As Production Manager for these publications, he was also in charge of designing the monthly ads for some of those publications' corporate clients and advertisers, producing print ads for national food product lines such as Sara Lee, Uncle Ben's, General Mills, and Hunt's.
Moving to Boston in January of 2005, Conrad continued his print production work while starting to learn the basics of web design. Picking up clients from the famed Berklee College of Music, he began to build sites that were clean and attractive, coding every page by hand to maintain ultimate control of each facet of his work.
In his spare time, Conrad likes reading, keeping up with current events in the news, creating music, watching football games, and seeing movies. He also goes to the gym, although he doesn't like that as much.