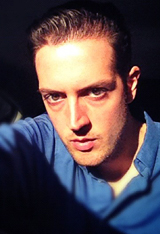 Mathew Tucciarone is an award-winning filmmaker and photographer that has worked in the film and television industry for several years. He has served as Director, Editor, Writer, and Director of Photography on his projects, which have been well-received by audiences all over the world.
His films include the short film "Da Capo" (2008), an artistic vision of the world as seen through the eyes of a music composer; and "I Finally Did It" (2010), a feature-length documentary Mat co-directed that opens with a short film and explores the power of friendship, music, and death.  It won the Silver Screen Award at the 2010 Nevada Film Festival in Las Vegas, NV, and the Gold Award for Feature Documentary at the 2010 California Film Awards.
His latest completed project is "Back to Seventeen," a music video he directed for the band Stereo Drive By. Currently, Mat is working as a videographer for Top 40 and YouTube musical sensation Karmin, filming various appearances, events, and performances for an upcoming documentary project.
As a photographer, Mathew always thrives on capturing the moment.  Although a majority of his clients have been musicians, he also has worked with businesses, models, artists, and is a skilled portrait photographer. Aside from film and photography, Mat enjoys playing guitar, graphic design, animation, traveling, and studying other cultures.
You can read more from Mathew and see more of his work on his personal photography blog.

Michael Conrad